Attacks from Mars is a giant, roaming pinball machine with an animated playfield.   It is a Burning Man "mutant vehicle" project, where we love nothing more than to create a compelling mobile experience for riders, so that the journey of traversing around the playa is as much fun as getting anywhere.  With the Attacks from Mars pinball machine, our riders are the ball in the game, and as they bounce around the play space, they are activating sound and lighting.  This project is a gadgeteers dream, with interactive, controllable LEDs, arduinos, switches, etcs. — all those wonderful mechanical aspects of pinball machines in an age that is dominated so much by digital technologies.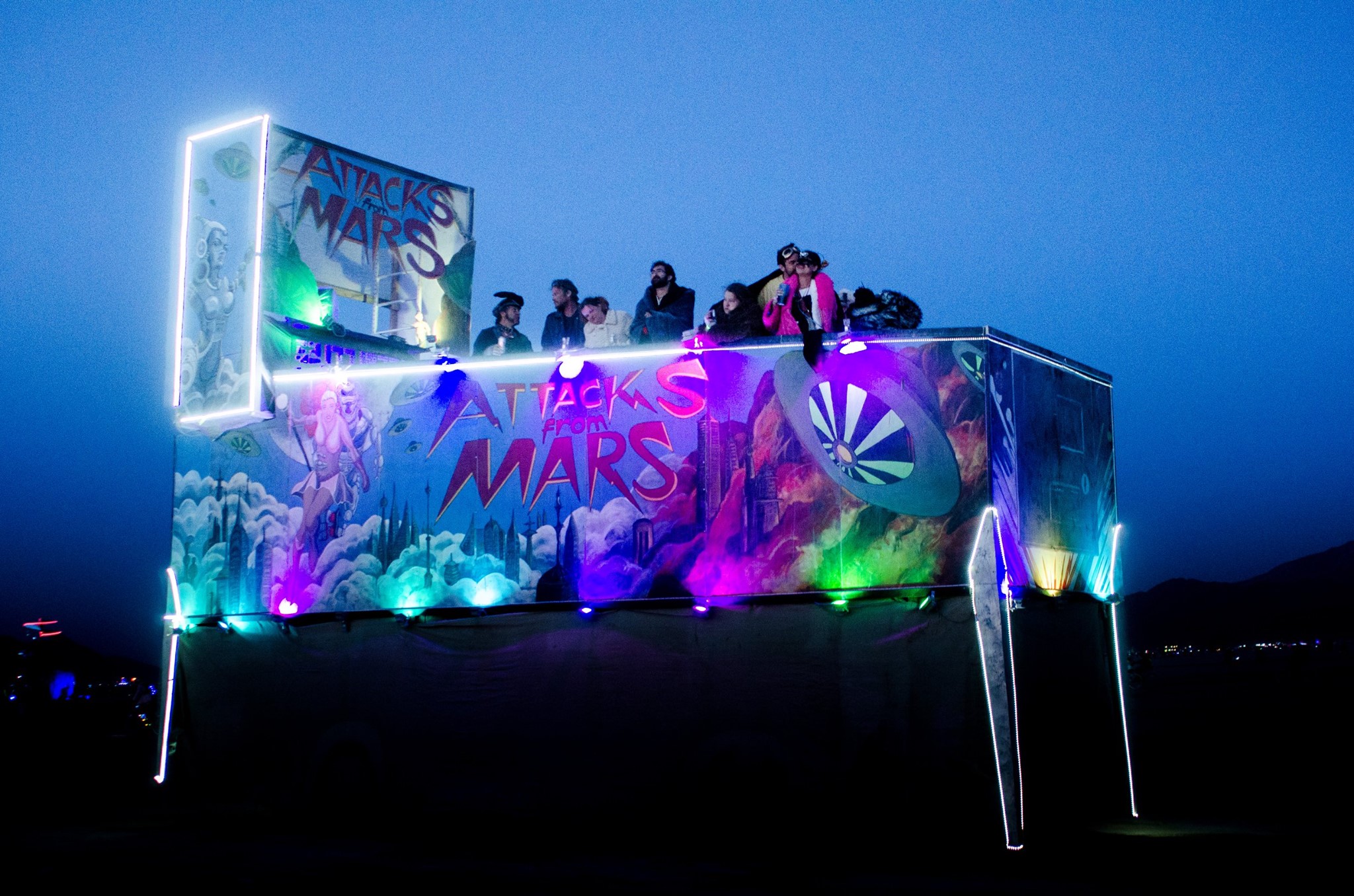 The game and mural theme is a cross between the Attack from Mars pinball machine and Cloud City, with references to over fifty years of futuristic robots — both good robots, and evil robots — either attacking or saving the citizens of our Cloud City.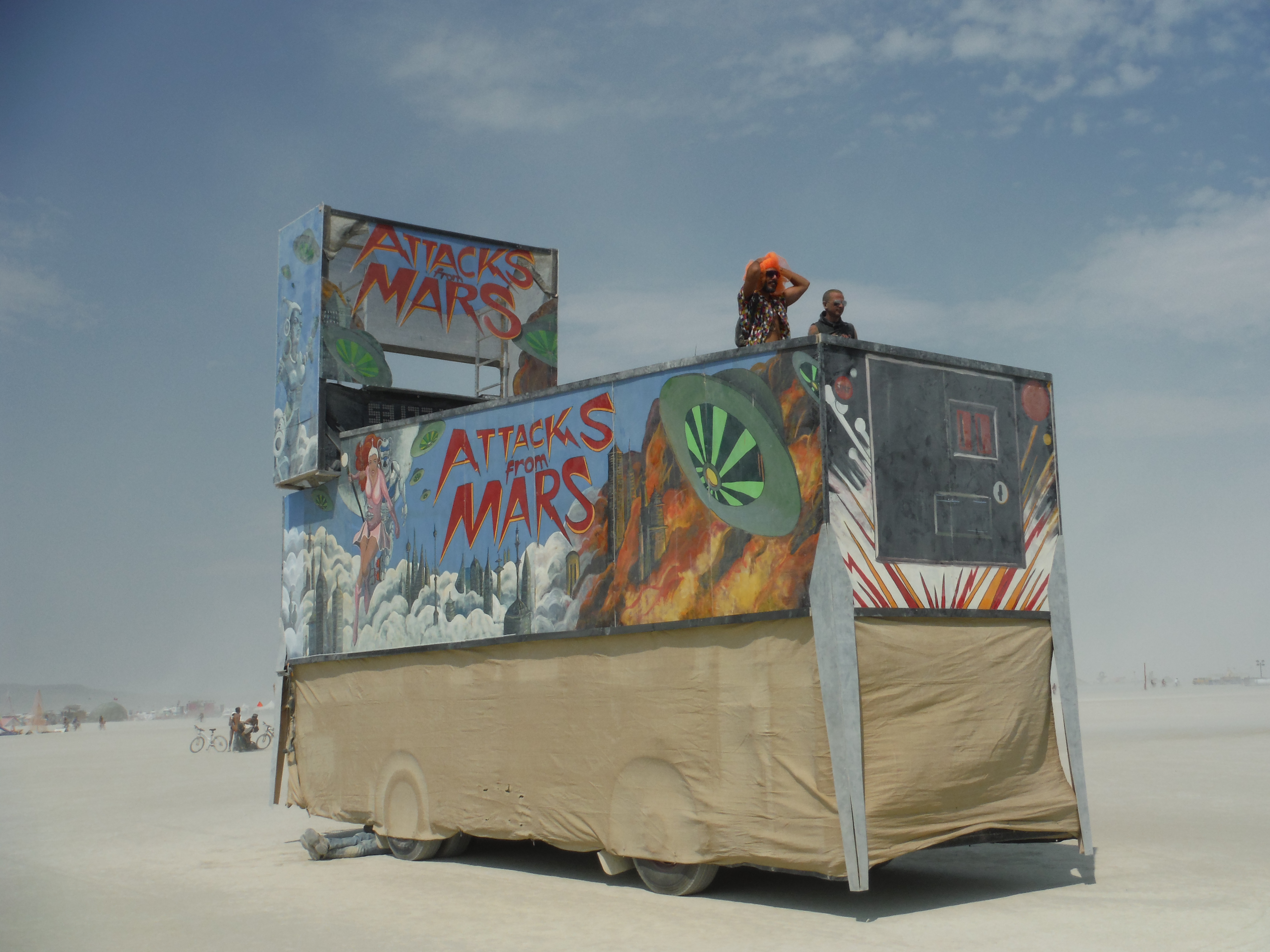 This is a three year project, and we are in our second year.  Last year we focused on building the pinball machine frame and painting the murals (100 x 8 feet of murals!), and this year we focused on making our night time lighting more impactful.   See last years' post for more pics of our murals. The frame of the pinball machine is built around a 30 foot bus and completely obscures it, and is painted with our Attacks from Mars murals.  The game play space, or playfield, is on top of the deck, with under stage lighting.  The backglass is made out of wood frame build around a scaffolding tower.  A DJ station is on the scaffolding tower inside the backglass box.
This art project was inspired in part our love for pinball!   Jeff Larson of our Totally Legit crew is a designer for the Seattle pinball zine, Skill Shot, and Greg Larson is a pinball repair technician at Quick Pinball Repair, a Seattle pinball repair shop.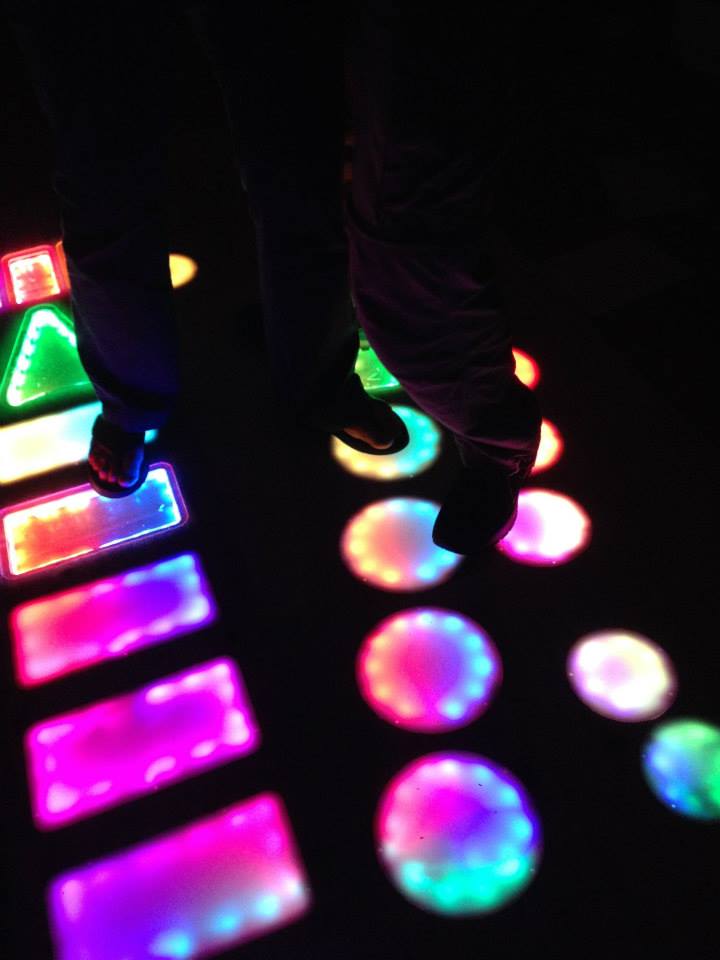 Playfied with animated LEDs simulating the effect of a pinball machine.