We are very pleased to announce our upcoming art installation at the Vermillion Art Gallery and Bar!
******* ANNOUNCING *******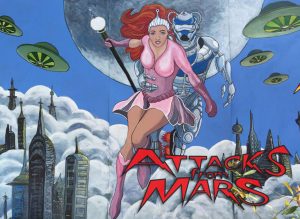 Attacks from Mars:
We Welcome our Robot Overlords!
an art installation by Totally Legit
Thursday, Dec 14, 2017 through Friday, Feb 5, 2018
Vermillion Art Gallery and Wine Bar
1508 11th Avenue, Seattle WA 98122
Vermillionseattle.com
https://www.facebook.com/events/145896532713370/
Opening night party:
Thursday Dec 14, 5-8pm (Capitol Hill Art Walk)
In the age of digital media, there's a renewed nostalgia for the kinetic, sensory bumps and clicks of mechanical machines, as exemplified by the resurgent popularity of pinball games here in the Pacific Northwest. Using pinball as a metaphor, this art installation examines our relationship with technology, where you are the ball in a large-scale, immersive playfield, reconnecting you with your tactile nature. The original Attack from Mars pinball game tells the story of technologically advanced aliens attacking earth, with art referencing the '50s. We reimagine the theme to explore our more modern, complex relationship with technology, where good robots help us fight evil robots as they attack an idealized cloud city.
Brought to you by Totally Legit, including
Andy Tomacelli :: Ben Flaster :: Brad Traynoff :: Dan Walker :: Greg Larson :: Jeff Larson :: Lea Willingham :: Sean Draine :: Shelly Farnham and more!
Totally Legit is a Seattle-based, interdisciplinary group of artists, technologists, designers, builders, and community organizers who share a passion for collaborative installations at the intersection of art, technology, and community. Learn more about us at http://TotallyLegitLLC.com
Attacks from Mars was originally conceived and implemented as a three-year mobile installation at Burning Man from 2015-2017, now adapted for this show at the Vermillion Art Gallery and Bar.
This art project was inspired in part our love for pinball! Jeff Larson of our Totally Legit crew is a designer for the Seattle pinball zine, Skill Shot, and Greg Larson is a pinball repair technician at Quick Pinball Repair, a Seattle pinball repair shop.