Please join us at our opening party for the Story of Maps: An Art Show at Passable!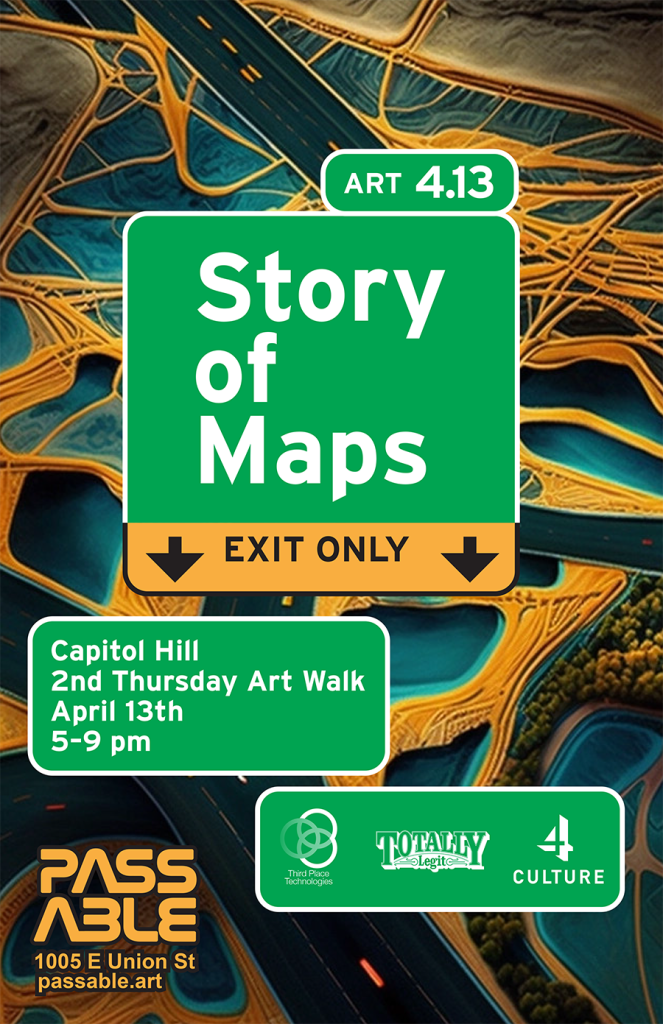 /map/
a : a representation usually on a flat surface of the whole or a part of an area
— Miriam-Webster
What is a map? With modern tools of art, design, layers of data, and interactive technology, maps have evolved into complex tools for wayfinding and storytelling. In this group art show, we take a closer look at the artistry of maps in conveying stories of people, in place, over time and space.
Participating artists include: Beanne Hull :: Benjamin Flaster :: Celestial Austin :: David Hull :: Genevieve Tremblay :: Jeff Brice :: Jeffrey Larson :: Jordan Schwartz :: Joseph Gray :: Josh Lind :: Kyle Darby :: Scott Sutton :: Shelly Farnham
The opening party is during the Capitol Hill Art Walk, 2nd Thursdays of each month, 5-9pm https://CapitolHillArtWalk.com/
**********************
Passable is owned and operated by Totally Legit LLC. This art show and opening party is brought to you in collaboration with Third Place Technologies, with the support of 4Culture.