Passable is a not-for-profit, arts-oriented makerspace in the heart of Capitol Hill on 10th and Union, with shared spaces, resources, and events optimized for a collaborative community at the intersection of art, technology — and pinball! We are seeking members whose creative interests are aligned with our mission: to have fun innovating together, and sharing our work through creative exhibitions and events. The social aspect of our space is very important to us, so you might think of us as 80% collaboration space, and 20% social club.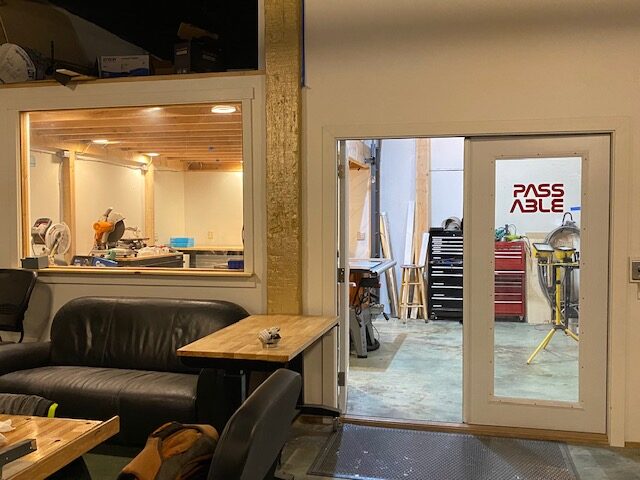 Membership Levels
You may sign up for membership at several levels. We recognize each individual has different circumstances and needs, so the nature of our agreement is negotiable. If you are a member of Totally Legit, ask us about our Totally Legit discounts.
Key Member. You have 24/7 access to all the shared workspaces and resources. However you have no storage space to leave items in your absence. Cost is 85$ per month.
Shelf Member. You have 24/7 access to all the shared workspaces and resources, and you have dedicated 2"x4" shelf space for storage. Cost is an additional 20$ per month per shelf. 
Studio Member. You have 24/7 access to all the shared workspaces and resources, and you have dedicated workstation space on the floor that is private and for your use only. Cost is an additional $200 per month for a desk. Larger studio spaces will be negotiated on a case by case basis. 
Locker option. You may sign up for a locker with a key. Cost is an additional 5$ per month.
Exhibition fees. If you participate in one of our art shows, we collect a 25% commission on any piece sold.
Shared Resources
Most spaces and tools at Passable are shared, unless specified otherwise. These include:
Collaboration Spaces

Main collaboration room for clean, dust free projects including computer work, electronics, drawing, paintings, crafts
"Dirty Room" for woodworking or metalwork
Electronics workstation
Flex front space for temporary projects, load/unload, exhibitions, events

Social spaces

Kitchenette with utility sink, microwave, small fridge
Lounge areas
Nap station loft
Bathroom with shower
Pinball machines you can play

Tools and supplies

Wood power tools: table saw, Miter saw, drill press, scroll saw, jig saw, sanders
Metal power tools: mig welder, grinders (tig welder soon)
Basic hand tools, such as hammers, pliers, wrenches

Basic hardware, such as screws, nails, hooks
Basic office and arts/crafts supplies such paper, pens, tacs

Maker equipment

3D printer
Glowforge laser cutter
Epson printer for up to 13×19 printers
Toys to play and learn with: Oculus, Projection mapping projector
Other maker tools in the space will depend on interests of our members
Shared Events and Exhibitions
Although we are primarily a maker space, we host the occasional event to help share projects with a friendly audience, including art exhibitions, collaborative meetups, or fundraisers for the space. The nature of these events are determined by the collective interests of our members.
If Interested
First, be sure to learn more about us online (see our Totally Legit portfolio, or find Passable on Facebook and Instagram) and read our membership general policies and guidelines.
Then, please email shelly at TotallyLegitLLC dot com, and include in your message:
Your name
Your contact info
The membership level you are interested in
A brief description of how you anticipate using Passable
Links to your relevant online presence, .e.g your online profile or portfolio
We will get back to you, and arrange to meet!