Who We Are
Totally Legit is a creative collaboration group, an interdisciplinary team of artists, designers, technologists, makers, and community organizers.
What We Do
We create interactive art, experiential installations, and collaborative events with a special focus on the intersections of art, technology, and culture.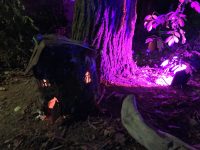 We were very happy to bring some of the pieces from the Wondering Woods to Lusio this year!  It was a great event, and an opportunity for us to show the projects we've been incubating up at Electric Sky to people in Seattle.  I want to thank the Lusio crew for being so helpful!
[cross-posted on ElectricSkyArtCamp.com] This years' Electric Sky was a resounding success and we cannot thank everyone enough for your active participation!  (For more imagery, check out our summarizing slide show or  see our video). Our primary goal with this event is to foster the community of creatives at the intersection of art and technology in the Pacific Northwest – building collaborative relationships, developing best practices, engaging in life-long learning, and inspiring new innovation.  Our secondary goal is to share the art generated by the event with the public, and in particular with the small rural communities of the Skykomish River valley. Reactive…
Get Involved
If you have a passion for art and tech, we are always looking for people who want to help us push the bounds of what is possible. If you are interested,
contact us
, or come to our exhibitions and events.