Who We Are
Totally Legit is a creative collaboration group, an interdisciplinary team of artists, designers, technologists, makers, and community organizers.
What We Do
We create interactive art, experiential installations, and collaborative events with a special focus on the intersections of art, technology, and culture.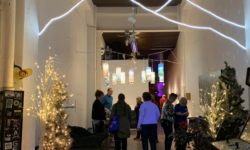 December 2019 – February 2020 at the Vermillion Art Gallery and Bar This group show invited artists and technologists to explore how altering our gaze through the prism of shifted reality transforms the mundane into the magical, the bland into a kaleidoscope of color, and the flat into volumes of shapes. Participating creatives:Totally Legit :: Andrew Cole :: Ben Flaster :: Brandon Traynoff ::Dan Walker :: Greg Larson :: Jeff Larson :: Maggie Shelton :: Rohin Mittal :: Shelly Farnham :: April Denton :: Giddy Arts :: Beanne Hull :: Karen Walker :: Nancy Cleveland :: Joanie Keaunui :: Federico…
Get Involved
If you have a passion for art and tech, we are always looking for people who want to help us push the bounds of what is possible. If you are interested,
contact us
, or come to our exhibitions and events.