Who We Are
Totally Legit is a creative collaboration group, an interdisciplinary team of artists, designers, technologists, makers, and community organizers.
What We Do
We create interactive art, experiential installations, and collaborative events with a special focus on the intersections of art, technology, and culture.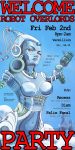 We are excited to celebrate the closing of our Attacks from Mars installation with a party! Welcome Robot Overlords Party Friday, Feb 2nd 8pm-2pm at Vermillion (1508 11th Avenue) We've invited some of our favorite dance DJs to play, including DJs Recess, Diem and Felix Feral. We need to make room for our new art by getting rid of the old, so we will be hosting a silent auction for pieces from our Attack from Mars installation.  Now's your chance to take home some really cool art!  Check out the art we will be selling at the auction, and check out images from…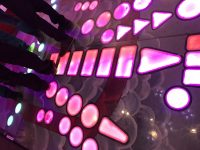 Here are some cool pics from our Attacks from Mars at Vermillion opening night party!  It was a great opening, thanks to Diana at Vermillion for her support, and to all the crew who made the setup go so smoothly.
Get Involved
If you have a passion for art and tech, we are always looking for people who want to help us push the bounds of what is possible. If you are interested,
contact us
, or come to our exhibitions and events.