Who We Are
Totally Legit is a creative collaboration group, an interdisciplinary team of artists, designers, technologists, makers, and community organizers.
What We Do
We create interactive art, experiential installations, and collaborative events with a special focus on the intersections of art, technology, and culture.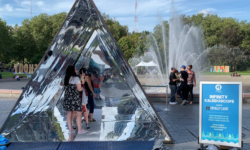 We were pleased to bring our BioZoom art show to the ANT art gallery for Bumbershoot, and install our giant Kaleidoscope on the north side of the International Fountain at Seattle Center. We had a never ending lines over the three days of the musical festival. Infinity Kaleidoscope BioZoom in the A/NT Gallery During Bumbershoot See more Infinity Kaleidoscope or Bizoom in A/NT photos on our Facebook page's album for the event: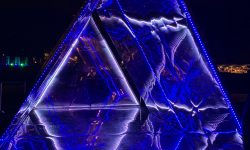 Video of our Infinity Kaleidoscope installation at Bumpershoot 2019. It's a 12'w x 10.5'h x 20'l structure, made with a steal frame and mirrored with acrylic panels. The lighting effect was made through programmable LEDs and an arduino. We had an infinity mirror on the end cap. Thanks to OneReel and Bumpershoot for the opportunity to bring this installation to Seattle! If you want to see more photos, check out our Infinity Kaleidoscope Facebook album.
Get Involved
If you have a passion for art and tech, we are always looking for people who want to help us push the bounds of what is possible. If you are interested,
contact us
, or come to our exhibitions and events.